Bank Interest Scam Robocall Exploiting the Bank of America Brand
About Bank of America
Corporation
Bank of America has earned a prominent place in the banking industry as a multinational financial services corporation. Headquartered in Charlotte, North Carolina, the bank offers a comprehensive range of financial products and services to cater to the needs of individuals, businesses, and institutions. What distinguishes Bank of America from its competitors is its unwavering focus on customer service and innovative solutions. Its team of enthusiastic and collaborative employees have helped create a culture of success that has endured over the long term. By prioritizing clients' needs and keeping up with emerging technologies, Bank of America continues to be a trendsetter and exemplar of excellence in the world of finance.
Bank of America History
Bank of America has a rich history that dates back more than a century. Originally founded in San Francisco in 1904, the bank was known as the Bank of Italy, and it was created to serve the needs of Italian immigrants who were underserved by the existing banking system.
Over the years, the bank continued to grow and expand its reach, eventually changing its name to Bank of America in 1930. During the mid-20th century, Bank of America played a critical role in the development of the modern banking industry, pioneering several innovative technologies and financial products that are still in use today.
In the decades that followed, Bank of America faced a number of challenges and setbacks, including a series of scandals and financial difficulties. However, through its commitment to innovation and customer service, the bank was able to weather these storms and emerge as a stronger and more resilient institution.
Today, Bank of America is one of the largest and most respected banks in the world, with a presence in more than 35 countries and a commitment to providing the highest quality financial products and services to its clients. Its rich history and enduring legacy make it a true pioneer and exemplar of excellence in the banking industry.
About the Bank of America Fraud Scam:
The Bank of America Interest scam is set up to take users personal information. The scam impersonates a security message from Bank of America. It informs the user that they have improved for better interest on their Bank of America Credit Card Account. The user is prompted to call a number to speak to an Bank of America representative.
Bank of America Fraud Scam Audio:
"Hi, this is the last time from Bank of America with employment changes to your account before the next billing cycle glasses agent on your excellent payment history. Now qualify for 0% interest rate on all your credit card account. This is the limited time offer and you must respond immediately press one now to speak to our qualification department and complete the loan process."

Detection Info:
Fraud Score: .95

First detected: Wed Mar 13 2019 08:51:20 GMT-0700 (Pacific Daylight Time)

Numbers Connected to Scam: (18007920001),(18003008575),(18003403922),(18002831211)
Locations Connected to Scam: (TX,US),(CA,US),(FL,US),(NY,US),(GA,US)
Bank of America Fraud Scam Audio:
Fraudulent robocalls that exploit the Bank of America brand have been a persistent problem in recent years. These calls are typically designed to trick unsuspecting individuals into divulging personal information or providing access to their bank accounts.
In these types of scams, the fraudsters often use sophisticated technology to create a fake caller ID that displays the Bank of America name and phone number. They then use an automated voice system to deliver a pre-recorded message that appears to be from the bank, warning the recipient of a security issue with their account and urging them to take immediate action.
Once the recipient follows the instructions given by the robocaller, they may be directed to a website that appears to be the Bank of America website or asked to provide sensitive information such as their account number, social security number, or other personal details. Alternatively, they may be asked to transfer funds to a specified account or install malware on their device.
To avoid falling victim to these scams, it is important to be vigilant and cautious when receiving unsolicited calls or emails. Bank of America advises its customers to always verify the identity of the caller and never provide personal information over the phone or email. If in doubt, customers should contact Bank of America directly using a trusted phone number or secure message center to confirm the legitimacy of any requests for information or transactions
Find more scams impersonating companies in our Branded Scam Call Index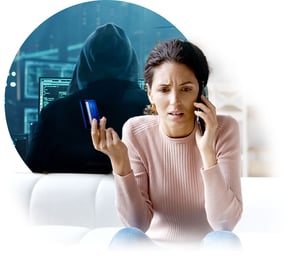 Is Your Brands Reputation at Risk?
Stop fraudsters from trying to scam your customers
by impersonating your brand over the phone