Bank Scam Call Exploiting the Citibank Brand
About Citibank
Corporation
Citibank is a multinational financial services corporation and one of the largest banks in the United States. It is a subsidiary of Citigroup, which is one of the world's largest financial conglomerates. Citibank provides a range of services including retail banking, credit cards, corporate banking, investment banking, mortgage loans, and wealth management. The bank operates in over 160 countries and has a global network of branches, ATMs, and online banking services. Citibank was founded in 1812 and is headquartered in New York City.
Citibank History
Citibank, or the City Bank of New York, was founded in 1812 as the city's first bank. Over the years, the bank has undergone several mergers and acquisitions, leading to its evolution into a global financial services corporation. During the late 19th and early 20th centuries, Citibank expanded rapidly, opening branches in Latin America, Europe, and Asia. In the mid-20th century, the bank became a major player in consumer finance and introduced several innovative financial products, such as credit cards. In the late 20th and early 21st centuries, Citibank continued to grow, both through acquisitions and organic growth. In 1998, Citibank merged with Travelers Group to form Citigroup, one of the world's largest financial conglomerates. Today, Citibank remains a major player in the global banking industry, offering a wide range of financial products and services to individuals, corporations, and governments.
About the Citibank Interest Scam:
The Citibank Interest scam is set up to take users personal information. The scam impersonates a security message from Citibank. It informs the user that they have improved for better interest on their Citibank Credit Card Account. The user is prompted to call a number to speak to an Citibank representative.
Citibank Scam Audio:
"Hello. This is Lisa calling you from Citibank. We are monitoring your payment history and you have been qualified to drop down your injury the locks on your credit card so please press one to speak with a live operator and get a confirmation number."


Detection Info:

First detected: Wed Aug 16 2017 23:38:09 GMT-0700 (Pacific Daylight Time)
Numbers Connected to Scam: (10BLOCKED),(12026020694),(12035948313),(17738970197),(12092450759)
Locations Connected to Scam: (CA,US),(IL,US),(TX,US),(NY,US),(FL,US)
Find more scams impersonating companies in our Branded Scam Call Index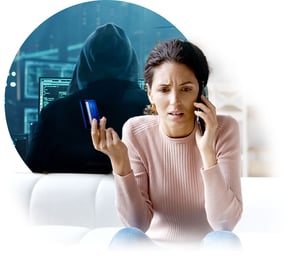 Is Your Brands Reputation at Risk?
Stop fraudsters from trying to scam your customers
by impersonating your brand over the phone