Identity Theft Scam Exploiting the Chase Brand
About Chase Bank Corporation
Chase Bank is a national bank in the United States and is one of the largest banks in the country. It is a subsidiary of JPMorgan Chase, a multinational financial services company.
Chase Bank offers a wide range of financial services to its customers, including checking and savings accounts, credit cards, personal loans, mortgages, investment and retirement services, and more. The bank has over 4,700 branches and 16,000 ATMs across the country, making it easily accessible to many customers.
Chase Bank History
Chase Bank traces its origins back to 1799, when The Bank of The Manhattan Company was founded by Aaron Burr, Alexander Hamilton, and several other prominent figures of the time. The bank later merged with the Chase National Bank in 1955 to form what is now known as Chase Bank.
Chase National Bank was founded by John Thompson in 1877 and was one of the largest banks in the United States. Over the years, the bank grew through a series of mergers and acquisitions, including the acquisition of J.P. Morgan & Co. in 2000, which led to the creation of JPMorgan Chase.
About the Chase Bank Identity Theft Scam:
The Chase Bank Identity Theft scam is set up to take users personal information. The scam impersonates a security message from Chase Bank. It informs the user that there has been fraudulent activity on their debit card account. The user is prompted to press a number to speak to an Chase Bank representative.
This type of scam, commonly known as "spoofing," involves a fraudster making a phone call and disguising their identity by using technology to make it appear as if the call is coming from a legitimate Chase phone number or local number. The fraudster may then claim to be a representative from Chase and ask the victim for personal information, such as their account number, Social Security number, or other sensitive data.
It's important to note that Chase Bank, like many other legitimate financial institutions, will never ask for personal information over the phone or via email. If you receive a call that you suspect is fraudulent, do not provide any personal information and hang up immediately.
Chase Bank Identity Theft Scam Audio:
" Hello this is a message from Chase Bank. We regret to inform you that your debit card is locked to reactivate it please press one now and you will be transferred to our security department."
Detection Info:
First detected: Wed Mar 13 2019 08:51:20 GMT-0700 (Pacific Daylight Time)

Numbers Connected to Scam: (10BLOCKED),(100000000),(12393249078),(17702586093),(16074781858)
Locations Connected to Scam: (FL,US),(VA,US),(GA,US),(TX,US),(CA,US)
Find more scams impersonating companies in our Branded Scam Call Index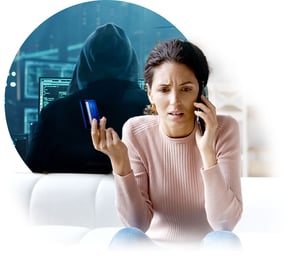 Is Your Brands Reputation at Risk?
Stop fraudsters from trying to scam your customers
by impersonating your brand over the phone