Bank Scam Call Exploiting the Bank of America Brand
About Bank of America
Corporation
Bank of America is an American multinational investment bank and financial services company headquartered in Charlotte, North Carolina. It is the second largest US bank by assets and serves individuals, small and middle-market businesses, corporations and governments with a range of banking, investing, asset management and other financial and risk management products and services. It was founded in 1904 and has over 4,300 branches in the US.
Bank of America History
Bank of America was founded in 1904 in San Francisco, California as Bank of Italy, which provided Italian immigrants with banking services. It later expanded its services and changed its name to Bank of America in 1930. Over the years, the bank acquired several other banks and financial institutions and grew to become one of the largest banks in the United States. In the 2008 financial crisis, Bank of America received a government bailout and merged with investment bank Merrill Lynch. Today, Bank of America is a multinational financial services company offering retail banking, wealth management, and investment banking services.
About the Bank of America Fraud Scam:
The Bank of America Fraud Alert scam is set up to take users personal information. The scam impersonates a security message from Bank of America. It informs the user that their debit card was detected in fraudulent activity. The user is prompted to call a number to speak to an Bank of America representative.
Bank of America Fraud Scam Audio:
"This is the Bank of America Credit Card Fraud Department calling for **** regarding unusual activity on your credit card ending in ****. A temporary hold may have been placed on your card. It's important that we speak with you as soon as possible. Please call us at 844."


Detection Info:

First detected: Wed Mar 13 2019 08:51:20 GMT-0700 (Pacific Daylight Time)

Numbers Connected to Scam: 14694366937,19412003692,19729966201,19412003753,19412003842
Locations Connected to Scam: (TX,US),(CA,US),(DC,US),(FL,US),(NY,US)
Find more scams impersonating companies in our Branded Scam Call Index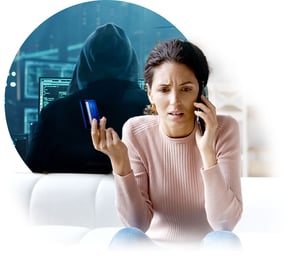 Is Your Brands Reputation at Risk?
Stop fraudsters from trying to scam your customers
by impersonating your brand over the phone