Apple ID Scam Call Exploiting the Apple Brand
About Apple Inc.
Apple Inc. is one of the largest technology companies in the world, and is considered to be on of the Big Five American information technology companies, alongside Alphabet, Amazon, Meta, and Microsoft. Apple Inc. is an American multinational technology company currently headquartered in Cupertino, California, United States. Apple is the largest technology company by revenue (totaling US$365.8 billion in 2021) and, as of June 2022, is the world's biggest company by market capitalization, the fourth-largest personal computer vendor by unit sales and second-largest mobile phone manufacturer.
Apple History
Apple was founded by Steve Jobs, Steve Wozniak, and Ronald Wayne on April 1, 1976 to develop and sell personal computers. The company's first product was the Apple I, a computer designed to be sold in assembled form for US$666.66. Apple III (1975), written off as a failure at the time due to its high cost and esoteric marketing, later became wildly successful in the mid-1980s with the advent of the Macintosh; by November 2018 it had sold 50 million units.
About Apple ID
Apple ID is an authentication method used by Apple for iPhone, iPad, Mac and other Apple devices. Apple IDs contain the user's personal information and settings. When an Apple ID is used to log in to an Apple device, the device will automatically use the settings associated with the Apple ID.
About the Apple ID Scam:
The Apple ID scam is set up to take users Apple ID information. The scam impersonates a security message from Apple. It informs users that their Apple ID was detected in suspicious hacking activity. The user is prompted to press a number to speak to an Apple representative.
Apple ID Scam Audio:
"This is a security message in regards to your Apple ID
Our servers have detected some suspicious hacking activity on your apple account
As a result we blocked all access to your apple data resources to protect a data breach
Please do not use your Apple device until you speak to a apple support representative
Please refrain using any financial activity on your devices
In order to speak to an apple support representative press 1 or 2 or ignore
Thank you"


Detection Info:

First detected: NA

Numbers Connected to Scam: NA

Find more scams impersonating companies in our Branded Scam Call Index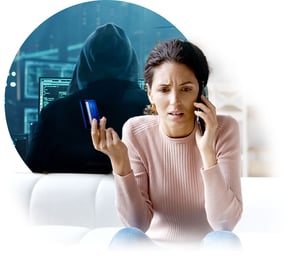 Is Your Brands Reputation at Risk?
Stop fraudsters from trying to scam your customers
by impersonating your brand over the phone